Multi-Unit Remote Back Office
MicroSale's Multi-Unit Remote Back Office is a robust above store back office management tool that allows you to stay connected to each restaurant to fully control your business from anywhere. Manage and alter the menu, discounts, employees and system options by individual location, region, or market. View real-time sales and compare sales between locations.
Easily Compare and Manage
With the consolidated reporting and data management, you'll gain quick insight into your business. You can compare numbers by location, see individual labor, or see the most profitable stores by a glance at a visual graph.
Employee Management
Control access levels by employee for the locations. You can customized access down to individual functions if needed. And with the easy-to-read reports, you'll be able to easily see who is doing the most discounts and voids.
Location Management
Edit your menu and prices for one, many, or all locations. Edits can be sent to the store immediately or can be scheduled to upload for a future time or date.
Integrated Inventory
Using MicroSale's Inventory Module, you can control the inventory globally. Change item details, price, and quantity in real time.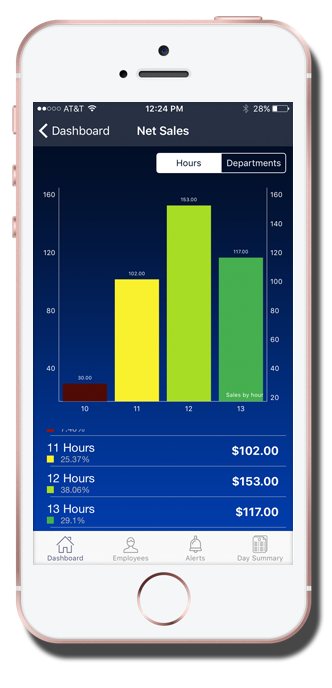 Compare your restaurants' real-time data across all locations in a single app. Toggle through the individual restaurants to check in on labor, voids, discounts and overall sales for the day.
Make quick decisions before they turn into money costing mistakes. The ReportingAnywhere application provides your restaurant's data at your fingertips. View top and bottom selling items for the day, hourly sales, department sales, voids, discounts and more.
Contact Us
Questions or Comments? We're here to help.