Monitor Your Business & Gain Insight into your customers' habits by tracking and analyzing sales trends.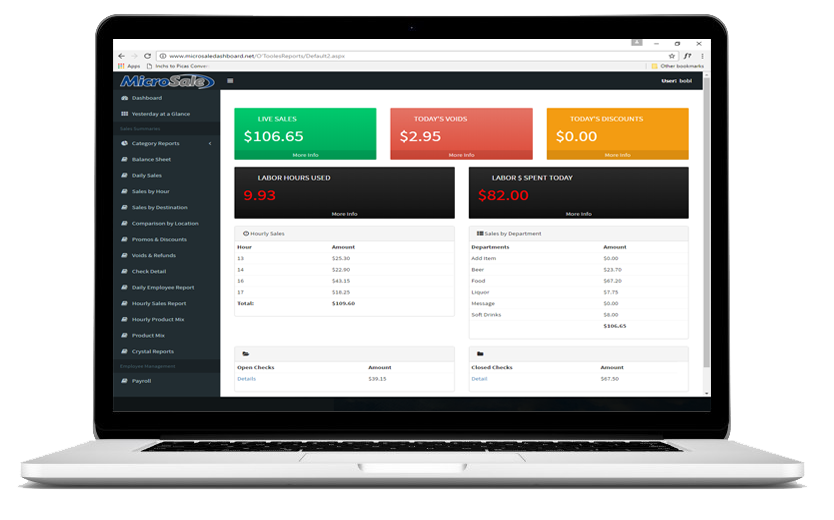 Know your Numbers & Increase Profit
MicroSale offers hundreds of reports that can be viewed from any terminal in the restaurant. Data is converted into simple to read graphs to help you easily and quickly understand your labor dollars, sales, discounts and voids.
Get the Best of Both Technologies
Get the dependability of Windows with the convenience of the cloud.
The POS system runs locally at the restaurant and your data is pushed up to the cloud to view real-time sales from your phone. With the system running locally, you are not out of service if the internet goes down.
Ready for your Future
It all starts with one. Whether you are happy with your single location or are planning to build an empire, MicroSale is designed to help you grow. Add the Enterprise software to manage all locations from your office and view sales in real-time to make actionable decisions.
Analyze Time-Sensitive Information to Make Money-Saving Decisions
ReportingAnywhere includes a website for detailed reports and a simplified real-time app available on the App Store and Google Play.  ReportingAnywhere is the most efficient way for restaurant operators and managers to access their business's key information in real-time in order to make actionable decisions.
Save Time & Money
The ReportingAnywhere app gives you instant access to time sensitive information in order to make money-saving decisions. Information includes labor percentage, voids, discounts and an easy to understand closeout report and more
Get Answers
Spend less time trying to gather information while on the go. Is the labor running too high? Did the promotion bring in customers tonight? Did the credit cards batch yet? All of your most critical concerns are answered with the app.
Ease the Stress
Get alerted when problems arise. With real-time numbers constantly streaming to your phone, you can quickly and easily fix problems before they snowball into catastrophes.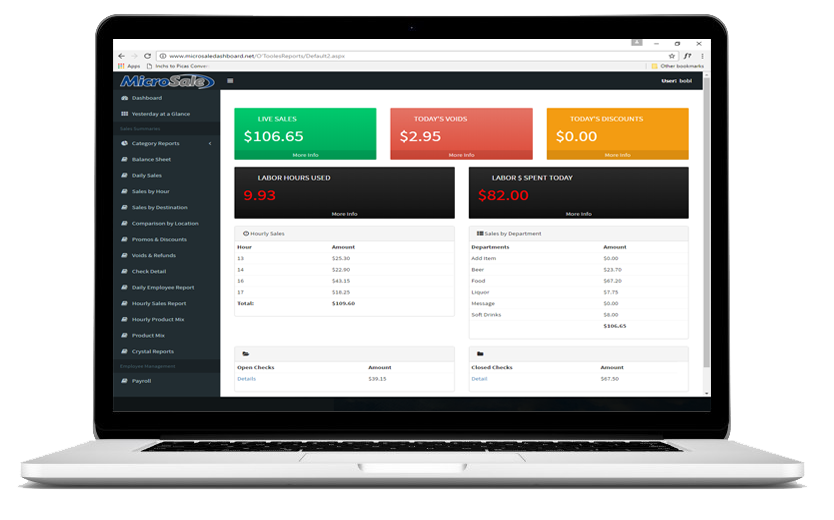 Onsite back office reporting offers a multitude of insights you need
MicroSale offers hundreds of reports that can be viewed from any terminal in the restaurant. Whether you choose to purchase a back office license or not, the same reports are available within every system.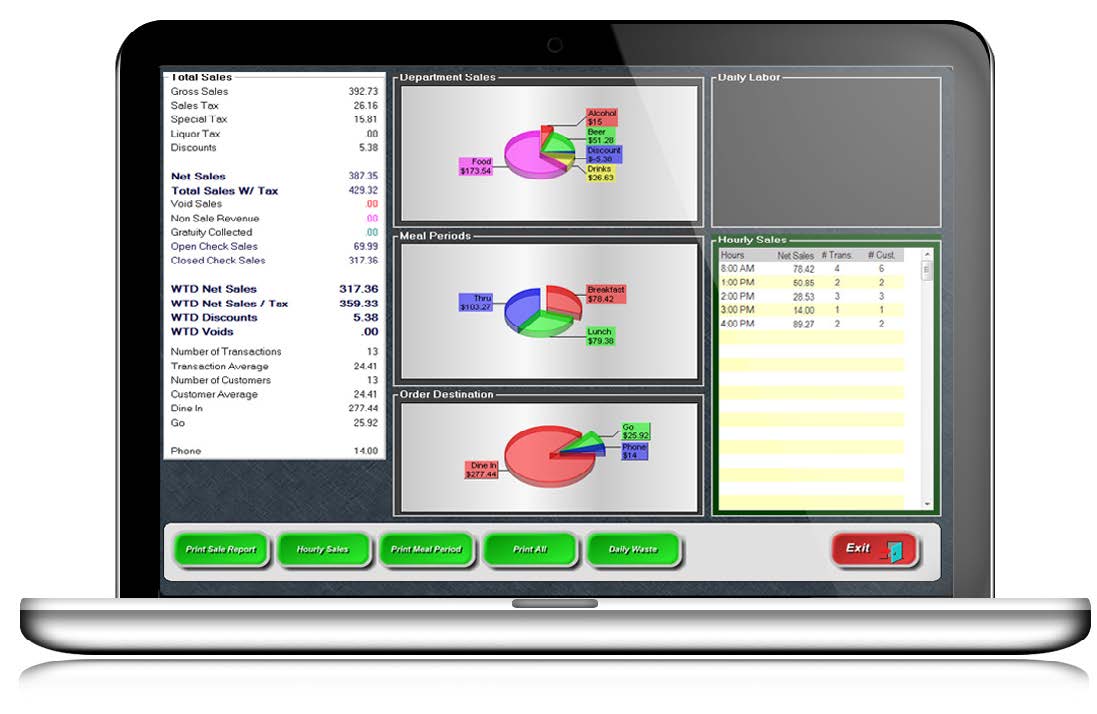 Includes:
Daily Sales Recap
shows your real-time data at a glance
Sales Sheet
shows your entire week's data in an easy-to-compare spreadsheet
Bar Graph of Top & Bottom 10 Days
shows your top and bottom best/worst sales dates by day of the week
Audits
gives you a transparent view of exactly what each of your employees are doing in the system
Server Contests
gives your servers or cashiers a fun, competitive way to boost sales for specific menu items
Product Mix
helps you determine which menu items and modifiers are most and/or least popular; available by date range, day, or hour
Time Clock Reports
provides information about labor use, wages, and labor costs to help save dollars on the bottom line