Monitor your business & gain insight into your customers' habits by tracking and analyzing sales trends.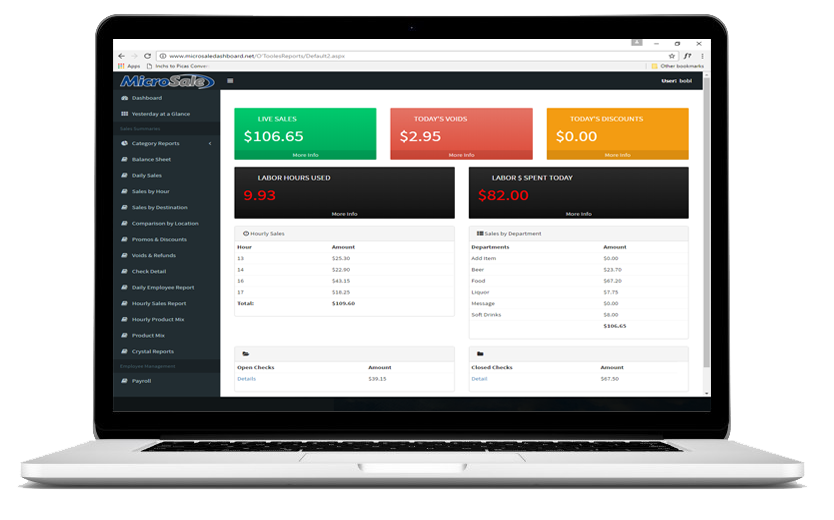 Improve profitability with easy-to-understand insights
The availability of the right information can have a significant impact on the improvement of a business and how decisions are made.
MicroSale is packed with over 100 pre-built reports to provide exactly what you need to understand your business's data. Back office reporting is built into every license of MicroSale; no need for a separate computer to run your reports.
MicroSale includes real-time snapshot reports of the day, easy-to-read pie charts, and time or date range reports. Quickly view and compare data based on time, day, week or year to determine sales trends and changes in patterns.
Know your Numbers & Increase Profit
MicroSale offers hundreds of reports that can be viewed from any terminal in the restaurant. Data is converted into simple to read graphs to help you easily and quickly understand your labor dollars, sales, discounts and voids.
Get the Best of Both Technologies
Get the dependability of Windows with the convenience of the cloud.
The POS system runs locally at the restaurant and your data is pushed up to the cloud to view real-time sales from your phone. With the system running locally, you are not out of service if the internet goes down.
Ready for your Future
It all starts with one. Whether you are happy with your single location or are planning to build an empire, MicroSale is designed to help you grow. Add the Enterprise software to manage all locations from your office and view sales in real-time to make actionable decisions.
Contact Us
Questions or Comments? We're here to help.